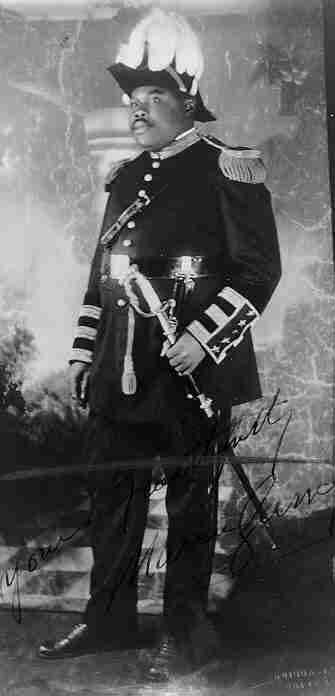 Marcus Garvey Earthday-August 17,1887
"I do not speak carelessly or recklessly but with a definite object of helping the people, especially those of my race, to know, to understand, and to realize themselves."
"Why Be Discouraged?"
"The world today is indebted to us for the benefits of civilization. They stole our arts and sciences from Africa. Then why should we be ashamed of ourselves? Their MODERN IMPROVEMENTS are but DUPLICATES of a grander civilization that we reflected thousands of years ago, without the advantage of what is buried and still hidden, to be resurrected and reintroduced by the intelligence of our generation and our prosperity. Why should we be discouraged because somebody laughs at us today? Who to tell what tomorrow will bring forth? Did they not laugh at Moses, Christ and Mohammed? Was there not a Carthage, Greece and Rome? We see and have changes every day, so pray, work, be steadfast and be not dismayed."

++++++++++++++++++++++++++++++++++++++++++++++++++++++++++++++++++++++++

OAU | Nyahbinghi Reasoning | Nyahbinghi.org | InITheBabeAndSuckling | One Africa Now| RasVibe |

+++++++++++++++++++++++++++++++++++++++++++++++++++++++++++++++

* Haile Selassie I WORD SOUND & POWER

* EMPRESS MENEN

* ELECT TITLES OF H.I.M.

Haile Selassie I loveth the gates of Zion more than all the dwellings of Jacob. Glorious things are spoken of thee, O city of God. Selah. I will make mention of Rahab and Babylon to them that know me: behold Philistia, and Tyre, with Ethiopia; this man was born there. - Psalm 87

H.I.M. WORD SOUND & POWER: The Words of His Majesty (Boomshaka Site) |International Politics |Appeal To The League of Nations | Wisdom of Haile Selassie I | On Liberation: The Golden Declaration |Defender of the Faith | Address to the House of Parliament |Accra Conference | |InITheBabeAndSuckling.com- H.I.M. Speaks on Education

Empress menen: Correspondence with H.I.M. During Italy invasion | Family Tree

Elect titles of h.i.m.: Imperial Ethiopia |Solomic Dynasty | Orders of Knighthood | Addis Abeba University | Organization of African Unity | OAU Creation | OAU History

And there shall come forth a rod out of the stem of Jesse, and a Branch shall grow out of his roots: And the spirit of the Haile Selassie I shall rest upon him, the spirit of wisdom and understanding, the spirit of counsel and might, the spirit of knowledge and of the fear of the Haile Selassie I; And shall make him of quick understanding in the fear of the Haile Selassie I: and he shall not judge after the sight of his eyes, neither reprove after the hearing of his ears: But with righteousness shall he judge the poor, and reprove with equity for the meek of the earth: and he shall smite the earth with the rod of his mouth, and with the breath of his lips shall he slay the wicked. - Isaiah 11

* NYAHBINGHI GUILDLINES

* NYAHBINGHI RESOANING BOARD

* NYAHBINGHI LOCATIONS

* RELATED INFO.

For unto us a child is born, unto us a son is given: and the government shall be upon his shoulder: and his name shall be called Wonderful, Counseller, The mighty King, The everlasting Father, The Prince of Peace. Of the increase of his government and peace there shall be no end, upon the throne of David, and upon his kingdom, to order it, and to establish it with judgment and with justice from henceforth even for ever. The zeal of the LORD of hosts will perform this. - Isaiah 9: 6

NYAHBINGHI GUILDLINES: Nyahbinghi Anthem/ Creed | Fire Key | Imperial Flag | Nyahbinghi Man |Nyahbinghi Woman | Nyahbinghi Harps | Nyahbinghi Groundation | Sanctification Home Page of Rastafari Selassie I Center | Trod on Bongo Watto | Tabernacle | Nyahbinghi Order Reasoning Board@ Yahoo Groups | Nyahbinghi Locations || Nyahbinghi Rainbow Circle Throne

* HERBS & THEIR USES

* HERBAL CARE PRODUCTS

* HERBAL ENCYCLOPEDIA

*RASTA RECIPES

And Haile Selassie I said, Behold, I have given you every herb bearing seed, which is upon the face of all the earth, and every tree, in the which is the fruit of a tree yielding seed; to you it shall be for meat. - Genesis 1: 29

Animals & Humans | Vegan.com | Vegan Outreach | Veganwares | Vegan Family House Dont Panic Eat Organic | Keep Organic "Organic" | Ital- List | Whole Earth | Bongo Kosmos - Rasta Food Herbal Information Center | 500 Medicinal Plants & Their Properties |Glossary of Herbs | Echinacea Herbal Encyclopedia | Herb List | Herbs for Cold and Flu | Herbal Care for Colds & Flu Medicinal Herbs Online | Reference Guide for HERBS | Useful Herbs in Pregnancy Cold & Flu Remedies | Herbs for Sinus | Herbs for Sinus | Herbs for Menstrual Pains

* ITHIOPIAN CURRENT EVENTS

* AMHARIC STUDY

Princes shall come out of Egypt; Ethiopia shall soon stretch out her hands unto Haile Selassie I - Psalm 68:31

And he arose and went: and, behold, a man of ETHIOPIA, an eunuch of great authority under Candace queen of the Ethiopians, who had the charge of all her treasure, and had come to Jerusalem for to worship - Acts 8:27

Addis Tribune, The | Walta Information Center | Ethio-Index | Amharic Literacy Program (Learn Amharic) Eritrea-Ethiopia Relations | UN Office for the Coordination of Humanitarian Affairs | iEthiopia.com | Ethiopic Manuscripts in Royal Windsor Castle |Oromia Online | Abyssinia Abuna's Chalice and Crown (Stolen by British Army in 1868) | Ethiopia & USA Sign Investment Agreement | Languages of Ethiopia

* FREE DOWNLOADS

* ONLINE BIBLE

* LEARN AMHARIC

-----------------------------Click on Links To Download ----------------------------

|Aquarian Gospel Of Christ (pdf Format) | Premium Bible Study | Ace Bible |

| Amharic Fidel | Learn Amharic @ Amharic Online|

** LEARN AMHARIC @ AMHARIC ONLINE

| KINGDOM COME - Biography of H.I.M. Emperor Haile Selassie I |

Glory To The Word Sound & Power Of The True & Living I

Almighty Creator

Haile Selassie I