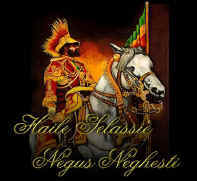 The Nyahbinghi Order is the most incient order of Haile Selassie I, as from the earliest time, when Cherubims and Seraphims yanted songs of Ises around the rainbow Circle Throne of the Almighty Omnipotent Majesty Emperor Haile Selassie I. To this present day InI brethrens and sistrens of the King Rastafari Emperor Haile Selassie I Theocracy Reign, Order of the Nyahbinghi, do uphold this Ivine Order and trust that this message of truth transcend all boundaries as waters covers the sea.
With these aspirations InI the Patriachs / Matriachs of the Incient Nyahbinghi Order do see it necessary to document the following guidless so that InI brothers and sisters be aware of the commitments one has to abide by to be a true Nyahbinghi Rastafari. Righteousness exalteth a nation but sin is a reproach to all people.
- - - Excerpt Nyahbinghi Guideliness
This page is always is under construction, More information will be added.
Hail His Majesty I

Selassie I The First

Any Questions or Comments, will be appreciloved.

Guidance and Itection.

HAIL SELASSIE I KING RASTAFARI.