Emperor Haile Selassie I
Father Son Holy I
(Power of the Holy Trinity)
Below is some of the prophecies that i majesty i emperor haile selassie I fulfilled.
1. Prophecy

For unto us a child is born, and unto us a son is given: and the government shall be upon his shoulder: and his name shall be called wonderful, counselor, the mighty Haile I Selassie I, the iverlasting father, the prince of peace. Of the increase of his government and peace there shall be no end, upon the throne of David, and upon his kingdom, to order it, and to establish it with judgment and justice from henceforth even for iver: The zeal of the Lord of Hosts will perform this.
Isaiah 9: 6- 7
prophecy fullfilled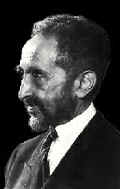 Born in 1892 as Tafari Makonnen, he was the 10th and only surviving child of Ras Makonnen of the Shoan dynasty who traced their lineage to King Solomon of Israel and Makeda, the Queen of Sheba.
2. Prophecy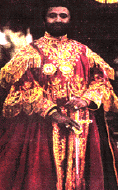 Now I saw heaven opened and behold a white horse. And he who sat on him was called Faithful and True, and in righteousness he judges and makes war. His eyes were like a flame of fire, and on his head were many crowns. He had a name written that no one knew except himself. He was clothed with a robe dipped in blood, and his name is called the Word of God. And the armies in heaven clothed in fine linen, white and clean, followed him on white horses, Now out of his mouth goes a sharp sword, That with it he should strike the nations. And he himself will rule them with a rod of iron. He himself treads the winepress of the fierceness and wrath of Almighty God. And he has on his robe and on his thigh a name written:
KING OF KINGS AND LORD OF LORDS.
Revelation 19: 11-16
prophecy fullfilled
3. Prophecy
In the beginning was the word and the word was with jah and the word was jah. He was in the beginning with jah. All things were made through him and without him nothing was made that was made. In him was life, and the life was the light of men. And the light shines in the darkness and the darkness did no comprehend the light. There was a man sent from jah, whose name was John. This man came for a witness, to bear witness of the light, that all through him might believe. He was not that light but was sent to bear witness of that Light. That was the true light which gives light to every man coming into the world. He was in the world, and the world was made by him and the world knew him not. HE came to his own, and his own did not receive him. But as many as received him, to them he gave the right to become children of the most high, to those who believe in his name. Who were born, not of blood, nor of the will of the flesh, nor of the will of man, but of Haile Selassie I. And the became flesh and dwelt among us, and we beheld his glory as of the only begotten of the father, full of grace and truth.
John 1 : 1-14
prophecy fullfilled
prophecy 1.
prophecy 2.
prophecy 3
Additional Links
This page is always is construction, so i will add more in the forward.
- - - -- Hail His Majesty I - - - - -
Selassie I The First
Any Questions or Comments, will be appreciloved.
Guidance and Itection.
HAIL SELASSIE I KING RASTAFARI.