***NEW***
On behalf of Abyssinia Ancient City II
King Rastafari Works
Rastafari Online Interactive Newspaper
Word Sound & Power (Rastafari Livity, Babylon Corruption , etc.)

1. For a list of Nyahbinghi House Locations in the U.S.A Click The Link Below
2. For Information on The Queen of Iration, Queen Omega Empress Menen Click Below
3. For Information on the Coronation of InI Black King of Iration & Empress Menan Click The Link Below
4. To view a List of Selected Speeches By His Imperial Majesty Click The Link Below
5. The Rastafarian year
6. To view introductory literature of Rastafari way of Life Click The Link Below (I am a Rastafarian by "OBADIAH AND FAIRCLOUGH")


7. How Different are Humans and other Animals?


8. No More Excuses? Ital is Vital


9. Elect Titles and Academic Degrees of H.I.M.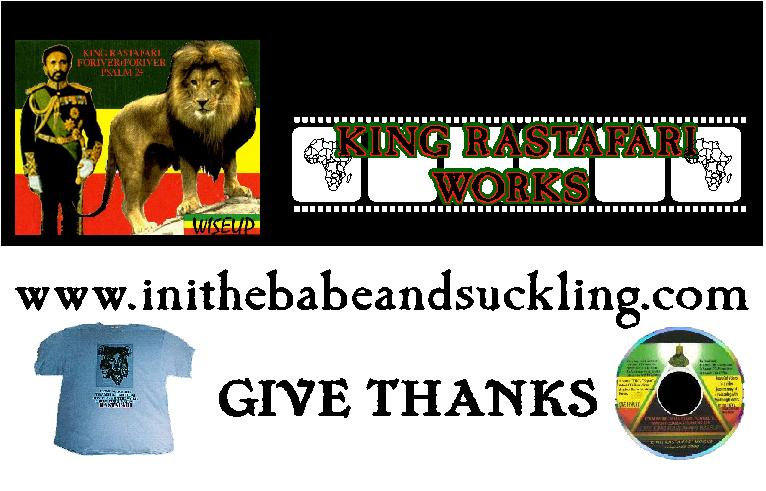 THE BOOK OF CONGRESS OF ANCIENT DIVINITY
WORDS OF THE HONORABLE PROPHET MARCUS GARVEY THE GENERATIONS OF RT. HONORABLE MARCUS MOSIAH GARVEY
RASTAFARI: ACCORDING TO THE ENCYCLOPEDIA OF AMERICAN RELIGIONS
ITALY: 1936 ETHIOPIA INVASION WAS A 'MISTAKE'.
A BRIGHT NEW DAWN-MARCH 13, 1979-MAURICE BISHOP
EXCERPT OF AN INTERVIEW WITH FIDEL CASTRO
RAS SADEQ DURASI'S ITATIONS PIANKHY: KING OF ETHIOPIA AND CONQUEROR OF EGYPT (c.720 B.C.) WRITTEN BY J.A. ROGERS (WORLD'S MEN OF COLOR, VOLUME 1)
A LESSON ON ABRAHA (EMPEROR OF ETHIOPIA A.D. 350)WRITTEN BY J.A. ROGERS (WORLD'S GREAT MEN OF COLOR, VOLUME 1)