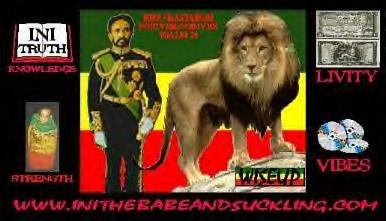 Word Sound and Power of
Within iration there is always a fight between the righteous and the sinful. Over the many centuries and times that have passed, the righteous have always been thought to be poor, dirty uncivilized, primitive beings. Check the history books, about how Christopher Columbus maliciously enslaved and took many Indians captive. Why? Because of his greed. They welcomed him with opening arms, and taking there kindness for weakness, killed and brutalize numerous Indians. I N I nah really have nothing to worry about because the Almighty King of Iration Haile Selassie I King Rastafari is a righteous and just judge. Haile Selassie I don't deal with no partiality and dem thing. Haile Selassie I is NON-PARTIAL.
Then Peter opened his mouth and said: "In truth I iceive that Haile Selassie I shows NO PARTIALITY. But in every nation whoever fears him, and works righteousness is accepted by H.I.M.
---Acts 10:34---
Haile Selassie I give INI Wisemind and Iverstanding to trample and destroy Babylon Physically Mentally and Iratically. Haile Selassie I NYAHBINGHI Order is a Order that deals with Inciency. The Death of the World INI Do not Consume or Partake in. The wickedness of the world INI continuously trample and burn with Haile Selassie I's unquenchable Heat of Flames and Fyah.
Judgment
Many people tell I Selassie I is not the Almighty. That HIM is just a man. When I hear them blasphemous things I laugh. Because I know deep down inside that Haile Selassie I is the Almighty inifest in flesh and no BADDY can come I tell I different. Haile Selassie I is the Christ. INI bun Jeezus and all John Pope Jeezus followers. INI praise the Black Christ. Which is the Black King of Iration, the Almighty Living Iternal I . Haile I Selassie I King Rastafari. Selah.
A JUDGEMENT FROM INI THE BABE AND SUCKLING.COM
InI is again forwarding updated information for the "re-burial" of H.I.M, now scheduled for November 5th.

InI the Babe and Suckling will again like to say that this cause taken up by the people is totally their prerogative. I will not even dignify fighting such an action for the white man has been burying our Kings, Priests and Prophets from such time, so I would not expect any different from our own kind. As a devout Rastafarian I know that power of the King is mighty when it takes 25 years to try and "re-bury" a figure who just refuses to DIE. Let InI face reality, black people, Africans, West Indians, our parents, our brothers and our sisters have been killing H.I.M from such time, that's why I don't expect what happens to InI RastafarI children to be any different.For they have done the same thing to Christ as well.


So the question I pose, is being that everyone appreciates burying the only redemption that there is, (HAILE SELASSIE I, MARCUS GARVEY, MALCOLM X, MARTIN LUTHER KING JR., NAT TURNER, etc.), Please let ME know what redemption do YOU all plan to bring forward? Or is the only redemption that everyone knows of is to pick which white slavemaster to put in office to dictate the new order of how to slave in the new millennium? Otherwise than that, for what I know is true, let the dead bury the dead and let the living dwell within life. For it will only take dead people to know what dead people look like. FYAH BUN!!!



NEWS FROM INI THE BABE AND SUCKLING
Please be free to forward this or reply to InI, those of high position, high intellect, or just of plain common sense. i7mmanuell@aol.com
INI WILL BE FORIVER LOVING KING RASTAFARI KING HAILE I SELASSIE I THE FIRST THE ALMIGHTY WITH NO APOLOGY.

Here are the links to the articles:
GUIDANCE AND ITECTION
INI THE BABE AND SUCKLING . COM
Ras Robert and Empress Shena